Weekly 2023.05
Hybrid workshops, dedicated side project time and being remote not distant.
Feb 6, 2023, 6:09 AM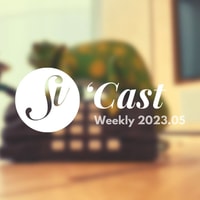 ADMIN 🛠️
Skipping over LIFE - is it TMI? 
Shall I try one main thing from each section to keep it shorter?
WORK 🏢
Ways of working manifesto workshop - hybrid mode with Miro
SIDES 💻
Make Life Work S10 with Mike & Sam - regular focus time 
Made It To The Weekend on House Finesse
TECH 🤓
Belkin MagSafe mount - is it worth £30?
Google App Scripts for Apple Health thanks to ChatGPT
ENTERTAINMENT 🎭
CREDITS
Support Si 'Cast by contributing to their tip jar: https://tips.pinecast.com/jar/si-cast
Check out our podcast host, Pinecast. Start your own podcast for free with no credit card required. If you decide to upgrade, use coupon code r-b0b82e for 40% off for 4 months, and support Si 'Cast.